Famous dance drama "800 nam hen uoc" (Promise of 800 years) were staged by artists of Vietnam and the Republic of Korea (RoK) in Seoul's Gangdong district, on March 31, as part of activities to mark the 25th anniversary of diplomatic relations between two countries.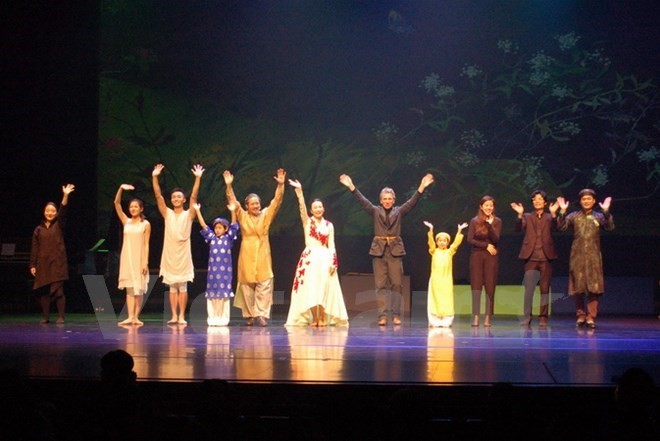 Artists at the show (Photo: VNA)
The performance was the harmony of dancing, drama and live music. It centred on the life of the last prince of Vietnam's Ly dynasty, Ly Long Tuong, who left Dai Viet in 1226 to look for a new land. After a long voyage, he landed at Ongjin land on southern Korea Peninsula, known as the Goryeo nation at that time.
In addition to enlarging land for cultivation, Tuong also helped local people repulse Mongolian troops. Although he served the Goryeo dynasty in a high ranking position, he still turned his heart to the homeland.
Some 2,000 descendants of the Ly dynasty have lived in the RoK in the past 800 years.
The dance drama will be performed in other RoK localities. It was brought to the Vietnamese audience for the first time in 2015 and re-staged in 2016 in Hanoi and Ho Chi Minh City.
On the sidelines of the performance, Vietnamese Deputy Ambassador to the RoK Tran Anh Vu had a meeting with Gangdong district's officials to find out about the livelihoods of Vietnamese expats.
Besides briefing of the local socio-economic situation, the district's representative also expressed hope to set up twining relations with a Vietnamese locality.