Sculptor Trinh Ba Dung has re-created Da Lat's iconic buildings in clay as a tourist attraction near the city's Tuyen Lam Lake.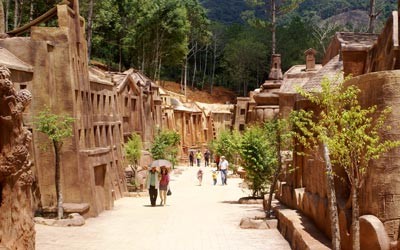 Walkway of clay tunnel (Photo: SGGP)
They lie on either side of a 1.2-kilometre walkway and include buildings in both traditional and modern styles – like the Pedagogy College, Da Lat train station, churches, Buddhist temples, ancient villas, and traditional houses.
Also along the walkway are clay replicas of antique cars, Vespa scooters, steam locomotives, and everyday tools, which trace the development of Dalat.
A 'Vietnam sovereignty house' has the country's map on its roof, including the Paracel and Spratly Islands.
The work, which started in 2010, is expected to be completed later this year.