Recently, the social network site Facebook provided information on the world renowned Berlin Symphony Orchestra and music group BESA for their rendition of works by a Vietnamese composer, which came as a surprise to many music lovers.
The image of a Western music group and a Vietnamese citizen playing familiar works of Vietnam comes as a surprise to many audiences.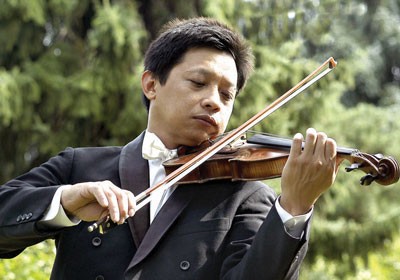 Vietnam artist Le Ngoc Anh Kiet (Kiet Le) (Photo: SGGP)
Vietnam artist Le Ngoc Anh Kiet (Kiet Le) is the only Vietnamese artist to be part of the world renowned Berlin Symphony Orchestra.
Having an official position on the famous orchestra is an honor for Kiet Le and also an honor for oversea Vietnamese.
More than 30 years ago, in a dormitory named Lotus on 146AB Pasteur Street (now the Hotel Rex) a young boy and son of trumpet player trumpet Le Tien Trach, played the role of baby sitter for his small sister.
Le Ngoc Anh Kiet then studied violin at the Conservatory of Music under his teacher, artist Bui Cong Thanh, a well known teacher in Russia.
Later, Kiet won a scholarship to study at the Leningrad Conservatory of Music and became a student of the renowned violin professor Komarova.
In 1990 he and his family settled in Germany. In the years of living in Germany, Kiet Le practiced in the Berlin Symphony Orchestra and then became an official member of the world famous group.
Besides working in the orchestra, he participated in many music clubs in Berlin. Kiet Le is a member of the Berlin Trio Band that plays music with popular musicians such as Gerhard Mayer, Klauss Richter.
He is also founder of the group Berlin String Quarto Saigon or BESA.
In 2008 he founded the first music school for Vietnamese people in Berlin, taught children Vietnamese and German classical music, pop music, and music of Vietnam.
Returning to Vietnam, he has joined the Berlin Symphony Orchestra with 66 musicians and is scheduled to hold performances for the first time in Vietnam at the Hanoi Opera House on July 14 and 15. He wants to pay tribute to the place "where he was born and grew up".
The music group will also perform in Ho Chi Minh City on July 16.
Although busy with work, the artist is still devoted to Vietnam, the country of his birth and where he spent his growing up years. Kiet Le is determined to compose more musical works for his country.