Leaving his school to join the army in 1971, painter Nguyen Trung Son created many paintings that featured memorable moments related to the war against American invaders. Among those works, some have not until recently been introduced to the public.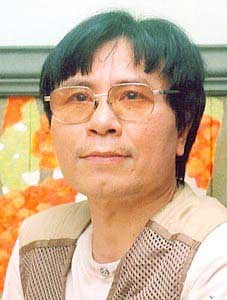 Painter Trung Son (photographed in 2005)
Among the paintings is one that highlights a scene in which Saigon residents welcomed liberation soldiers on a tank entering a street in Saigon on April 30, 1975.
The painting also shows flags of the National Liberation Front for South Vietnam hung at many houses along the street.
   
The painter, born 1952 in northern Thai Binh Province, joined the army when he was a student at the Hanoi Industrial Art University.
A soldier of a scout unit of Division 325, he experienced many fierce battles in northern Quang Tri Province in 1972-1973.
He later took part in numerous combats in Hue, Da Nang, Phan Rang, Phan Thiet, and Saigon – now Ho Chi Minh City.
After historical battles, he would create paintings to describe them as his "memoirs" of the war.
In the Ho Chi Minh Campaign in April 1975, as a photojournalist, he accompanied Armored Brigade 203 while the unit was entering Saigon on April 30.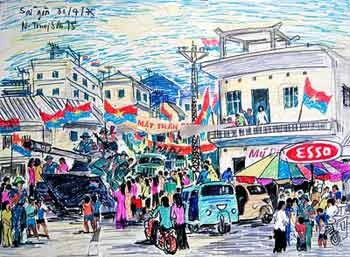 Created by painter Trung Son on April 30,1975, this painting describes a scene in which Saigon residents welcome liberation soldiers 
In 1976, he left the army to continue his studies at the university and later graduated in applied art and ceramic decoration.
Painter Trung Son has taken part in many domestic and international painting exhibitions. Many of his works have been included in a number of art collections in such countries as the US, Belgium, the Netherlands, Denmark, South Korea, and Japan.
Currently, the artist is preparing for a personal exhibition to mark his 60th birthday.