Composer, singer and music producer Luong Bang Quang has impressed his fans not only with his high-quality music, but also his huge collection of high-tech products, including computers, audio mixers, laptops, cameras and Ipod. Talking to SGGP, he insists that the gadgetry is an investment decision.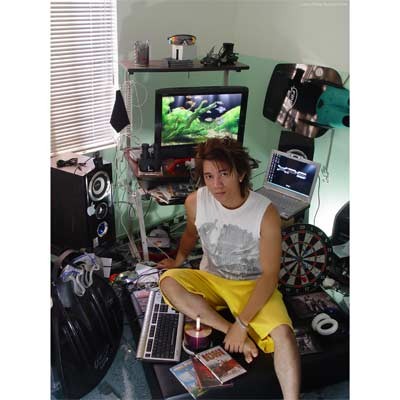 Luong Bang Quang in his room with various hi-end products (Photo: Quang's courtesy)
Question: What are your impressions about the high-tech market in our country now?

Luong Bang Quang: In recent years, it has become easier to find these products in Vietnam, both high-tech or just so-so. Now, when a product is released in the world, it takes only a few days for Vietnamese residents to find it in somewhere in the country instead of waiting for a long period like before.
Previously, if one wanted to purchase a new product, one had to buy it from a foreign company and import it later, but now, everything has changed. You just need to search for information about a new product online and easily find it later in the local technology market. The most important thing for consumers now is to understand the specifications of their "wanted" product before buying it. Moreover, consumers can now find various prices and brands and make a choice. But generally, in my opinion, the prices of technology products at present are reasonable and meet the budgets of most people.
What are your favorite products? Do you usually update to new models?

My starting career was a music producer. My staff and I from the Blue Production Company have to do most of the work for a product, from recording to photographing, designing, printing and copying. The hardest work is taking photographs and arranging them perfectly into a finished CD for my artists. That requires a high-tech camera. You can visit my website
www.underground-production.com
to see some finished photos and maybe give me some feedback (laughing). I hope that you will recognize and appreciate our hard work later. We update and use the latest camera models to produce the best products for my artists.
As for my second career as singer, I have taken advantage of high-tech materials a lot. My first CD uses the Enhanced CD version, which is a compact disc format that enables discs to be played on either a CD player or a multimedia capable device like a CD-i player, or a DVD-ROM, or CD-ROM drive, where added material can be displayed. This has been a very popular technology in the world since the late 90s but our music industry did not produce any work on this before. If you have my CD, please run it on a CD-ROM drive or DVD-ROM to check out some hidden bonus materials, like pictures and lyrics and even some flash animations.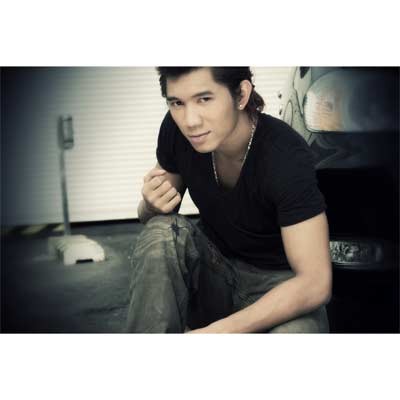 Luong Bang Quang

As a young artist, do you think people will evaluate you by your high-tech products?
Not at all. When I decide to purchase a high-tech product, it means that the product can earn money back or at least offer some other benefit for my career. "Little investment but big earnings; that's my concept for most businesses, especially in IT. In my opinion, hi-tech products are not only accessories to make you more fashionable or cool or something similar; first of all, they must have useful functions to serve the purpose of the consumers.
For myself, some products that are most helpful to my career are surround sound systems and sound mixers. And obviously, my staff and I always update these to the newest high performance models of these equipments and do our work the best we can. "High quality" is the first choice, and I do not care for the fashion value of these products at all.
What is your favorite product for your own entertainment?
I wear my Ipod whenever I go out. With it, I feel completely satisfied. Everything I want now is in my hand, to be exact… in my Ipod. Since this Ipod is my favorite, I've decorated it with some crystal stones. Using some special glue, I stuck these stones along the body of the player. Some may like it and others not, but it does not matter. I feel it gets more comfortable all the time. It helps me relax while waiting at the airport or walking on the streets.
I believe that IT in general and the high-tech market in particular will develop more in the future, especially in Vietnam. And it's a wonderful thing to all those who love these products. And even if it's not welcomed by all the people, it will be welcomed very much by my staff and me at Blue Productions.