Da Lat will host an exhibition featuring 115 paintings by Vi Quoc Hiep, including 95 of old French-style villas in the resort town, to mark its 115th anniversary in November.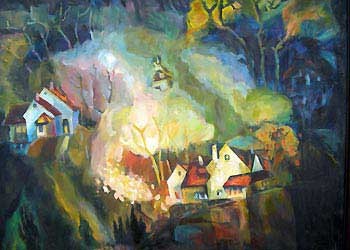 The painting "Da Lat's villas in early morning" by Vi Quoc Hiep.
"Impressions from Da Lat's old villas" will showcase the typical architecture of the mountain town that was founded by the French to beat the heat of the southern Vietnamese plains below.
There will also be portraits women and paintings of various objects.
Many of the villas are set in pine-covered hills in the misty, quiescent early morning and surrounded by colorful flowers glittering under the gentle mountain sun.
Hiep, whose paintings evoke the exquisite and sophisticated beauty of this romantic town, is considered a custodian of Da Lat's soul.
His representations of Da Lat's old villas have been displayed around the country and in countries like the former Soviet Union and Thailand.
He has been living in the town for 30 years, loves the villas, windy roads, hills, and pine forests, and regards himself as a son of the city.
Born in the northern province of Lang Son in 1948, Hiep, who belongs to the Tay ethnic community, graduated from the University of Arts in Ho Chi Minh City (right?) in 1971.
He has held several exhibitions since 1990 and received many awards. His works are also on permanent display at five major museums around the country.