The red carpet at the 5th HTV Awards 2011 ceremony was graced by hundreds of well-known actors and artists at the Ho Chi Minh City Television Theater on April 4.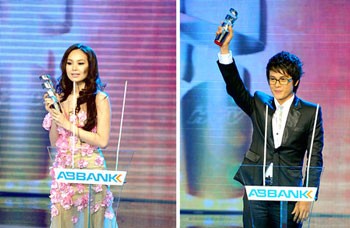 Actress Minh Hang and actor Hoa Hiep won the Best Actress and Actor awards. (Photo: Sggp)
After a three-month voting process, nine awards were given out to the city's favorite singers and actors.
In the TV category, actress Minh Hang and actor Hoa Hiep won the Best Actress and Actor awards. Hang won for her role as "Phuong Linh" in the film Đoi mat (Facing) while  Hiep won for his role as "Vi" in the film Cong mat troi  (Gate of the sun).
Actress Hoai An and actors Le Binh and Vo Thanh Tam took the Best Supporting Actress and Actor awards.
In the theater category, the Best Drama Actress title went to veteran actress Thanh Thuy. Trong Phuc and Que Tran were named Best cai luong actor and actress.
In the music category, Dam Vinh Hung was named Best Male Singer while Cam Ly won the Best Female Singer award.
In addition, the organization board also awarded "Devotion" titles to director Le Cung Bac, singer Thanh Thuy and cai luong actress Que Tran. Actor Hoa Hiep received the "Friendly artist" award.
Organized by Ho Chi Minh Television, the HTV Awards honors popular artists who have made outstanding contributions to the development of Vietnamese music, theater and film, based on viewers' votes. This year 46 artists received nominations and awards in various categories.