The ASEAN Cultural Space exhibition was launched in Hanoi on August 28, showcasing nearly 1,000 items on Vietnam and the Southeast Asian nations in various languages.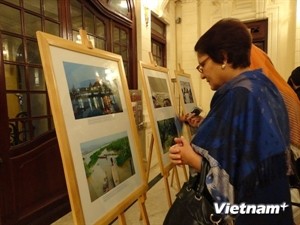 (Photo: VNA)
The public can explore the historical and cultural values of Vietnam and gain insights into the region, which is working towards forming an official community by 2015 built on the pillars of politics and security; economy; and culture and society.
The exhibition features Vietnam's August Revolution and National Day, its economic and cultural achievements, and its contributions to ASEAN.
Many of the items on display show ASEAN's support for Vietnam in safeguarding its sovereignty over sea and islands.
Photographs of the ASEAN region and its people will be on display, along with literary works and architectural studies. Visitors will also be introduced to dance and cinema from across the ASEAN region.
The exhibition, which runs until September 15, is organised in celebration of the 69 th anniversary of National Day, the 47 th anniversary of the founding of ASEAN, and the 19 th anniversary of Vietnam joining ASEAN.