Dan Tranh (sometimes called 16-chord zither) artists from China, Japan, Korea and Taiwan altogether arrived in Ho Chi Minh City to join with the local artists in a special festival entitled "Asia Dan Tranh Festival 2008" which will last until Sep 4, in the HCMC Labor Culture Palace in District 1.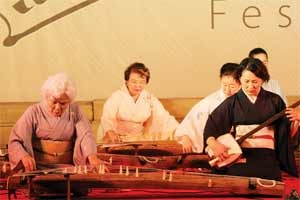 Japanese artists present Concerto for Kota and Sangen No.10 (Photo: SGGP)
The 2nd festival is held by the HCMC Conservatory, HCMC Center for Culture and HCMC Labor Culture Palace. 
The festival presented its opening to public by an amazing performance of all the artists last night in a stadium of the Palace.  
The artists will have half a day off today enjoying the Vietnamese water puppetry at the Golden Dragon Water Puppetry Theatre in the Palace. The artists will meet their audience again tonight in another show starting 7.30 pm. 
The festival will also hold an exhibition of various types of Dan Tranh this afternoon which allow guests to know more about the culture of the Vietnamese instrument Dan Tranh and also the traditional music composed for this instrument. 
The Asian Dan Tranh Festival, also know as the Asian Zither Festival, is expected to enhance the friendship and mutual understanding among neighboring Asian countries. The festival is an opportunity for the artist to introduce the distinctive features of the traditional musical instruments of their countries and boost their interaction as well  
The first festival was held in HCMC over Sep 10-14, 2000.
The zither is a kind of traditional Asian stringed instrument originated from an ancient Chinese zither and is known as Dan Tranh in Viet Nam, Koto in Japan, Kayagum and Komungo in Korea and Guzheng in Singapore. In each country they have been reformed in shape, structure, material and performance technique to manifest people's feelings.
The Tranh zither is small and has 16 iron strings, hence it is also called the 16-stringed zither, while the Koto zither, made of wood, is bigger and has 13 strings. When played with an ivory square-pointed plectrum worn on a finger, the Koto zither produces low timbre in deliberate rhythms. The Kayagum and Komungo are played with the fingertips while other zithers are played with plectrums.