Viet Nam is hosting the 14th annual general meeting of the Asian Pacific Publishers Association (APPA), which opened yesterday at the Continental Hotel in Ho Chi Minh City and lasts until May 11.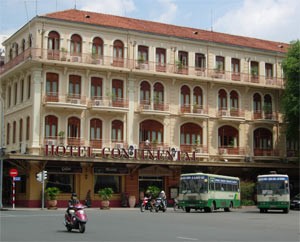 The meeting is taking place at the Continental Hotel in HCMC. (Photo:KK)
The main theme of the gathering is to establish cooperation in publishing between the developed and developing countries that belong to the APPA.

The agenda also includes discussing whether to admit Brunei and altering some APPA regulations.
Out of the APPA's 16 members, Viet Nam only has publishing agreements with two - China and Japan.
The conference is viewed as a chance for Viet Nam to find business opportunities in publishing and learn more about the trade through hearing the experiences of others and learning about their copyright laws.

Established in 1993, the APPA now groups Viet Nam, China, India, Japan, Korea, Australia, Pakistan, Bangladesh, Sri Lanka, Mongolia, Papua New Guinea, Singapore, Thailand, Indonesia, the Philippines and New Zealand.