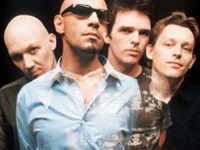 The Aston Villa
Invited by the French Consulate, the Aston Villa French Rock Band will be in Ho Chi Minh City for a performance at Ben Thanh Theater, 6 Mac Dinh Chi street, District 1, on May 10, 2006.
The Aston Villa consists of four members, bass-player Jean-Baptiste Mory (aka Djib), drummer Greg Baudier, guitarist Manu Baroux and Frédéric Franchitti (also known as Fred) who specializes in composing and singing.

The group was established in 1994 in the suburbs of Paris. The Aston Villa's catchy style of melodic rock which was primarily played with the guitar has made them one of the most original groups on French current stage.

The Aston Villa won the "Victoires de la Musique" award on 9 March 2002, carrying off the award for the Best New Act of the Year.
Link: www.rfimusique.com