Those who love chamber music enjoyed an impressive concert entitled "Global Echoes--International Concert 2008" at the Ho Chi Minh City Conservatory of Music on Sunday.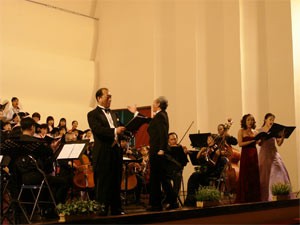 Three lead singers and the orchestra perform the song "Can't Help Falling In Love" (Photo: Truong Son)
The concert was supported by the Consulate General of the Republic of Korea, Consulate General of Canada, Korean Chamber of Commerce,  Korean Community Association, and Canadian Chamber of Commerce.  
"One evening I attended a concert at the Opera House and was quite surprised at the small size of the audience," said Ms. Clara C. Robertson, director of the concert. "Since I knew I would be returning to live in Sai Gon, I decided to see if I could encourage the development of a musical community by getting the foreign community involved with a local musical production."
That's the main inspiration for her to organize this concert.  
The concert gathered Vietnamese and international soloists and an orchestra with organ and piano. Seventeen songs were played, including classical compositions by four influential composers, namely "Gloria" by Antonio Vivaldi, "Ave Verum Corpus" and "Laudate Dominum" by Wolfgang Amadeus Mozart, "Holy, Holy, Holy" by Franz Schubert, and "Goin' Home" by Antonín Dvořák, along with some modern songs.  
Music fans were excited with the beautiful voices of two female sopranos, Vietnamese Ngoc Tuyen and South Korean Ryu Mi-hyun, as well as South Korean male bassist Seo Sang-bin. 
The concert was led by orchestra choral conductor and music arranger Simon Leung, who has 31 years of studying and performing. The concert received good feedback from the audience, which found it had a desire for this smooth and pure musical type.  
The concert finale was "Can't Help Falling in Love" by American rock musician Elvis Presley. The song was reworked for orchestra. 
The concert was intended to publicize the local and international communities in Ho Chi Minh City.