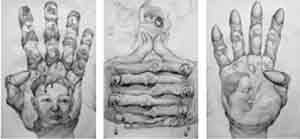 Some pictures of Mac Hoang Thuong, who won the prize in 2007

The city of Melbourne and the Australian Consulate General in Ho Chi Minh City December 10 launched the 2010 Young Artist Grants Program in HCM City. 


The project is an initiative of Melbourne aimed at supporting young emerging visual artists living and working in HCM City.
The Australian city will provide a total of AUD$5,000 with 10 local artists each receiving a grant of AUD$500.
Australian Consul General Mr. Graeme Swift said, "Programs such as this are extremely valuable. The grants capture the most creative and ambitious work by emerging artists who have had little exposure."
The 2007 winner of the first young artists program included two students from the HCM City University of Fine Arts, three photographers, and five artists. Their works were displayed in the Galery of Melbourne.
The 2010 Young Artist Grants program began receiving applications on December 14.  Requests for grants will be accepted until February 26, 2010 and following this, an exhibition of young artists' works will be organized in HCM City.