The Australian Consulate General in HCMC opened a photographic exhibition here on Sunday to celebrate the 35th anniversary of diplomatic relations between Australia and Viet Nam.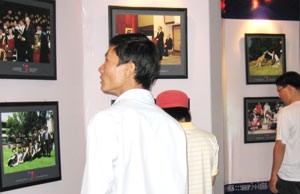 Spectators watch photos on display at the HCMC Youth Cultural House (Photo: T.T)
The "Australia – Viet Nam: Then & Now" at the Youth Cultural House in District 1, which will be open to the public until March 23, is part of the Australian Consulate's cultural program to mark the two countries' diplomatic relations. It features almost 60 photos.
Australian Consul General Mal Skelly said at the Sunday opening ceremony, "This exhibition serves to illustrate the increasingly close ties between Australia and Viet Nam, which cover many areas, including trade, tourism, education, law enforcement and development assistance."
"This special photo exhibition enables us to reflect on the many highlights of our relationship over the past 35 years and also look to the future, which I'm sure will mean an even stronger bond between our two nations," he said.
An example from Mr. Skelly was the image of enthusiastic Vietnamese football fans supporting the Socceroos during their Asian Cup match against Thailand in Ha Noi in 2007 in this photo collection, which "is a testament to the close people-to-people link between Australia and Viet Nam."
A total of 58 photos on display were selected from submissions from Australians and Vietnamese, in both Viet Nam and Australia, as well as official photographs from historical archives in Australia. This collection of photographs, from 1973 until today, records important official moments in the bilateral relationship – such as the visit to Australia in 2006 by then Vietnamese Prime Minister Phan Van Khai or the visit to Viet Nam in 1994 by then Prime Minister Paul Keating.
The pictures also describe Vietnamese visiting, living and studying in Australia and Australians visiting and working in Viet Nam. Such Australian icons as Uluru and Kangaroos, and a high profile symbol of Australian support in Viet Nam, My Thuan Bridge in the Mekong Delta, are not missed in the exhibition.
After HCMC, the exhibition will tour other southern provinces during the year 2008.