The Australian Consulate General in Ho Chi Minh City will organise a music performance titled "Australia- A Cultural Journey" on the April 19 night, featuring Australian indigenous artist Jeremy Donovan as well as five artists from the band Indigenous Hip Hop Projects.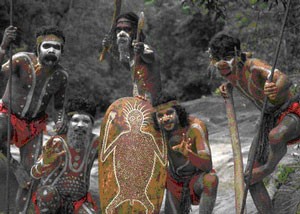 A photo of Australian Aboriginals (Photo: Courtesy of Australian Consulate General)

The show, held at the Youth Cultural House, is part of the program "The World Within Reach of the Youth Cultural House".
"The artists visit to Ho Chi Minh City promises to bring a stronger understanding of Australian Indigenous arts and culture to the people of Vietnam," Australian Consul General Graeme Swift said.
In addition to the performance at the Youth Cultural House, Jeremy Donovan and the five artists will participate in workshops with the Ho Chi Minh City Fine Arts University and the Choreographer College of Ho Chi Minh City. The Australian artists will work with Vietnamese students to enhance the cultural exchange between Australia and Vietnam and contribute to strengthening the friendship between the two countries.
Jeremy Donovan is a descendant of both the Gumbaynngirr and KuKu-Yalanji tribes and has been playing didgeridoo in both traditional and contemporary performances for over 10 years, according to the Australian Consulate General.
Indigenous Hip Hop Projects is a team of artists in elements of hip hop, media, entertainment and performing arts, who have been working extensively in Aboriginal communities around Australia since 2004, the Consulate General says.