An Australian film road show will take place from November 28 to December 3 in Ho Chi Minh City and December 2-4 in the Mekong province of An Giang, the Australian Consulate General in HCM City announced Wednesday.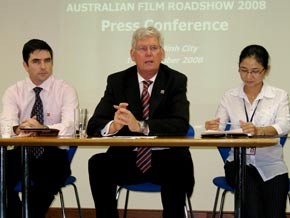 Australian Consul General Graeme Swift (C) announces the film program at Wednesday's press briefing (Photo: Tuong Thuy)
Six feature length films and two short films will be on in HCM City and two of the feature movies will go to An Giang, Australian Consul General Graeme Swift told a press briefing.
"The film selection will be a graphic medium for city residents, especially those with a specific interest in Australia, to earn a better understanding about the contemporary Australia with its beautiful landscapes, both unique natural outback and modern architectural structures, a multi-cultural society where no one is foreign, and Australian lifestyle with original stories that go to heart of the viewers," he said.
He added that the film program would provide Ho Chi Minh City and An Giang residents with an opportunity to see a great selection of award-winning Australian films, featuring Australia's most successful and internationally acclaimed actors and actresses.
The names include Bryan Brown, Heath Ledger, Greta Scacchi, Anthony La Paglia, Geoffrey Rush, Rolf de Heer, Joan Chen, Mich Mollo, David Gulpilil, John Clarke, Judith Lucy and William McInnes, according to the Consul General.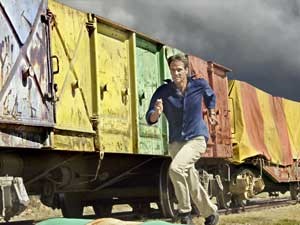 A scene in "Two Hands" (Photo: Courtesy of Australian Consulate General)
The six feature films are "Two Hands", "Looking for Alibrandi", "Razzle Dazzle", "Home Song Stories", "Crackerjack", and "Look Both Ways". The two short films are Harvie Krumpet, which won the 2004 OSCAR Award for the short film category, and Crocodile.
Mr. Swift said the movies in the road show cross multiple genres, including drama, romance and comedy, with strong educational messages for the audience.
In HCM City, the films will be screened at Megastar Cineplex (level 7, Hung Vuong Plaza, District 5). Each film will be screened once in English and once with a Vietnamese voice-over. (Please see the screening schedule attached). Entry will be free of charge and tickets are available at that cinema and the Australian Consulate General.
In An Giang, "Two Hands" and "Looking for Alibrandi" will be screened at An Giang University, and the Culture Centers of Tan Chau and Tri Ton districts.
Before going south, the Australian film road show is currently taking place in Hanoi and northern provinces. The northern and southern shows are part of a year-long cultural program of the Australian Embassy and Consulate General to celebrate the 35th anniversary of the diplomatic relationship between Australia and Vietnam.