The Australian Wine and Food Show will come to Ho Chi Minh City this month, with a variety of wines and speciality foods being showcased, it was announced May 22.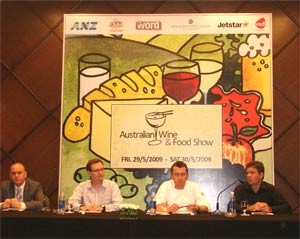 L-R: New World Hotel F&B director Mathing Widor, Jetstar Pacific finance director Tristan Freeman, Catalina Rosebay chief Paul McMahon, and Vino GM Jim Cawood at a press briefing May 22 (Photo: Truong Son)
One-hundred and fifty types of wines and various Australian specialties like beef, lamb, cheeses, oyster and other sea food will be served up between May 25 and 29.
 
Pre-shows will be held at various restaurants and hotels before the big event on May 29, including New World, Qing, Jaspa's, ZanZBar, Hoa Tuc, Cepage, Xu, The Boat House and Sandals.
 
A set-lunch, including wine, will be available for VND250,000 (US$14) per person.
 
On May 26 and 27, the Parkview restaurant, New World Hotel, will serve four-course dinners at US$65 per person.
 
The highlight of the food show will take place from noon to 4pm on May 29 for businesspeople and noon to 4pm on May 30 for the public.
 
Tickets cost VND180,000 (US$10).
The show also features a gala dinner on May 29 at the New World hotel, prepared by guest chef Paul McMahon from Catalina Rose Bay restaurant in Sydney. He will prepare a menu with Tasmania salmon, moonfish caught from south of Australia, Blackmores Wagyu beef from Victoria state, and Chlamys Nobilis from Queensland.
During the gala dinner, the guests will be served with the winning wine from the Australian Wine Contest, which will be held on May 28 at the hotel also.
Tickets for the gala dinner are US$120 per person, or US$1,100 for a table of 10.
 
The second annual Australian Wine and Food Show is sponsored by the Australian Consulate, the Australian financial institution ANZ Bank, budget air carrier Jetstar, The Word magazine and the Australian marketing agency Red.