Director Otto Retzer along with his film crew of the famous Austrian TV Series, "The Dream Hotel" arrived in Ho Chi Minh City for a casting on April 27.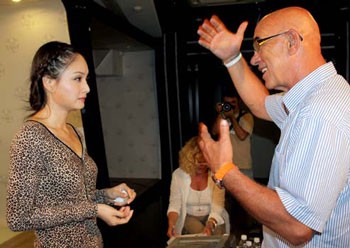 Vietnamese actress Lan Phuong and director Otto Retzer in the casting. (Photo: Vnexpress)
They will choose 10 supporting actors and actresses and about 500 extras from Hue, Hoi An and Ha Long.

The Dream Hotel is a funny yet moving series of stories of love and life in a five-star hotel. Started eight years ago, Lisa Film, the Austrian based producer of The Dream Hotel series, has produced two episodes every year in many locations around the world, such as Seychelles, Mauritius, Bali, Mexico, Malaysia, China and South Africa.

The TV series is aired on ARD channel in Germany and ORF in Austria in January and February every year. It attracts about 8 million German audiences and four million Austrian viewers.

After the casting in Vietnam, the filming be filmed in Hue, Hoi An and Ha Long between May 4 to June 2.