The most-anticipated entertainment event, for those who are into Asian culture, entitled "Aki Matsuri" (Autumn Festival), is ready to kick off on August 28 at the HCMC Youth Culture House in District 1.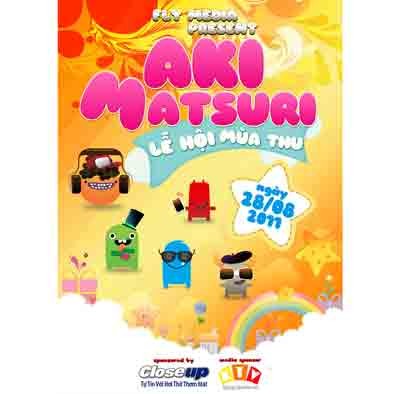 One of the Aki Matsuri's posters (Photo: Fly Media)
Unlike other entertainment events, "Aki Matsuri" is 'dressing up' in a vibrant orange color, which the organizers believe is a warm color accurately expressing the spirit of the festival –'active-passionate-young'.

The festival will take place from 9am to 9.30pm, imaging the cultures of three Asian countries, namely, Korea, Japan and Vietnam and also the United States of America.
Traditional Japanese origami paper art form, fortune cat-maneki neko and wind chimes- furin; traditional Korean dance Talchum and the modern Korean flash mob and Vietnamese calligraphy will showcase at the festival.
Two photobooths depicting sights in Europe and the Asian countries are a must-see attraction at the festival.
 
The stage performances will be the highlight of the festival, besides the impressive flash mob, street performances, skating, juggling and street magic shows.

Stage performances will include the debut musical dance by local popular choreographer HeavenKpop and amateur-to-professional catwalk by contestants of the Next Top Model show.