The annual concert titled Autumn Melody 2010, featuring 17 young artists who study and work at home and abroad, will take place at the HCM City Opera House on August 18 and 19.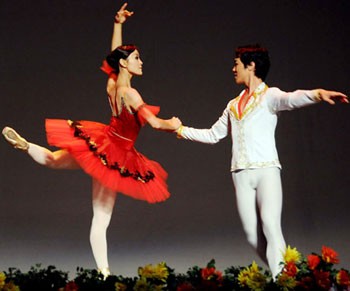 Dancers Hanayo Tukuyama and Pham Bao Trung (R) perform in the ballet "Don Quixote"  (Photo: Sggp)
Music lovers will have a chance to enjoy classical works and dances performed by Nguyen Manh Duy Linh, Nguyen Anh Son, Bui Cong Duy, Ho Dang Hoi, Vu Ngoc Khai, Ta Thuy Chi, Tran Nhat Minh, Pham Trang, Ngoc Tuyen, Ho Phi Diep, Tran Yen Nhi, Korean soprano Cho Hae Ryong and others.

Started in 2005, the Autumn Melody concert has received much support and contributions from hundreds of local and foreign artists.

It is regarded as a place for Vietnamese and foreign musicians to meet and exchange the latest in music news and where music lovers can have a great experience.

However, many financial difficulties have recently restricted the program to from expanding.

The organizational board can afford to finance homecomings for three famous musicians working abroad, so they may take part in this year's music performance. Due to return home for the summer holiday, other young talents who are studying aboard will also participate in the concert. The remaining artists are musicians who reside in Vietnam.

Experts said that the concert often costs around VND800 million to one billion (US$40,000-50,000). The municipal People's Committee supports VND300 million (US$15,000).

This year's concert needs about VND600 million (US$30,000) more and is waiting for a support from the local government.

Director of the HCM City Ballet Symphony Orchestra and Opera Vo Dang Tin said that they will maintain the organization and quality of the concert and hope the event becomes an international music festival in the future.

The management board of the theater is also expecting a standard stage for classical music, which has been in the works for 10 years now.