The 3D film "Avatar" has opened to rave reviews and Megastar Cineplex believes it could rake in US$1 million in Vietnam by the middle of the month – the highest box office sales ever seen in the country from a Hollywood blockbuster.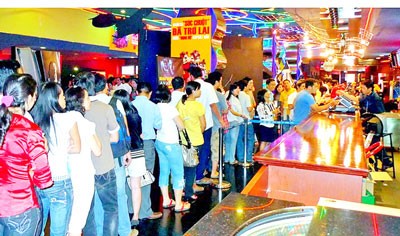 Young audiences queue up for a chance to buy ticket of the 3D film "Avatar" at the Hung vuong Megastar cinema in Ho Chi Minh City. (Photo: SGGP)
Since the movie's Vietnamese debut December 18, 2009, thousands have waited for a chance to buy tickets at the Hung Vuong Megastar cinema in Ho Chi Minh City and Vincom Megastar in Hanoi.
Most have had to book tickets one to two weeks in advance, while others have opted to view the less popular 2D version.
Megastar Cineplex has increased screenings of Avatar by five times from Monday to Thursday, and by six times from Friday to Sunday.
The cost of tickets depends on seat location, time and day.
Megastar said tickets for the 3D version of the film were sold out until January 24 but that they would continue showing the movie until ticket sales dwindle.
Avatar has become the fastest movie ever to achieve $1 billion in ticket sales worldwide after just two weeks.
The 3D science fiction blockbuster was directed by James Cameron, who also made Titanic, the best selling movie of all time.