A prize tittled "Bui Xuan Phai-For the Love of Ha Noi" honoring outstanding works of art and culture, the deal with the capital of Viet Nam, was awarded on Aug. 31, a day before painter Bui Xuan Phai's birthday.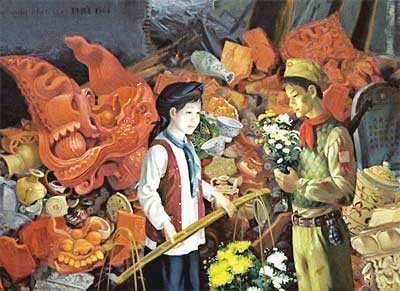 A part of the mural painting themed "Ha Noi's Defense Works and Flowers" by Doan Son.
The event to be held annually was launched on June 20 to mark the 20th anniversary of Phai's death.
This year's prizes were awarded to a historical novel about the Tran dynasty by Hoang Quoc Hai; a 6-km long ceramic mural designed by Nguyen Thu Thuy and her colleagues; design of Red River City of Van Tho; "Cung Phi Diem Bich" a cai luong play by writer Hoang Cong Khanh, director Quynh Mai and Viet Nam Cai Luong Theater's actors; and a mural entitled "Ha Noi – Chien Luy va Hoa" (Ha Noi's Defense Works and Flowers) describing the first days of the war of resistance against the French in 1946 by painter Doan Son.
Bui Xuan Phai (1920-88) was one of the Viet Nam's leading modern painters. He is known for his paintings of Ha Noi's Old Quarter, landscapes and young woman. His works are displayed in several domestic and foreign museums. He received the highest national award, the Ho Chi Minh Prize, posthumously in 1996.