Nguyen Tran Trung Quan is expecting to win at the annual Music Devotion Awards ceremony on April 6, which will be held at the HCM City Opera House.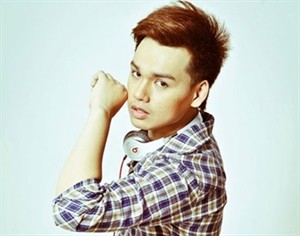 Nguyen Tran Trung Quan, who lost 20 kgs in two months, posing for the cover of his first album Departure. (Photo: VNA)
His first album, Khoi Hanh (Departure) earned two nominations for New Artist and Album of the Year and will compete for the award given out by the Vietnam News Agency's Culture & Sport newspaper.
"I am so happy to be nominated in these most important categories of the Music Devotion Awards this year," the singer said.
"I still remember the moment last year when I was attended the award ceremony only as a guest and dreamt of being nominated someday."
The album was released last October with its concept featuring a normal day. Ten songs were composed based on the time of the day, including the song Ao Anh Trua (Delusion at Noon), which was composed by Quan himself.
He wrote Delusion at Noon and dedicated it to his late grandmother. It was his first song and one of the contenders at Vietnam Television's music show Bai Hat Viet (Vietnamese Songs) in 2014.
"I wrote this song for myself. I wanted to go back to my childhood, which was the most precious time in my life," he said.
Other songs in the album were composed by Khac Hung; Huyen Samby and Sa Huynh.
The song A Lake by Huyen Samby was discovered by chance. She had just written a few sentences several years ago and had not finished the song. She also composed two others for the album Departure.
About 5,000 CDs have been sold in the week after the launch. The album has also received good feedback from his colleagues. Veteran singer Tran Thu Ha, who rarely comments on musical productions of younger artists, encouraged Quan for his project and urged him to develop his own unique musical style.
"She told me that I should follow my own style and be stricter with myself. I'm feeling very confident because of her encouragement," Quan said.
Quan had emerged among the top four contestants in a television singing contest in 2012 and released a few singles in the pop, ballad, R&B and jazz genres. However, these did not find popularity.
After that, he hurriedly produced other musical compositions, which did not satisfy him. He didn't release these despite the VND 200 million spent producing them.
He could not cope with the stress and his weight ballooned to about 85 kilograms.
The idea for the album Departure came to Quan while he was discussing plan with his team about developing his career. The electronic music genre was chosen by his producer, who found something special in Quan's voice.
"Quan has a voice that is modern and suitable for electronic instruments. He also trained professionally at Viet Nam National Academy of Music (VNAM), which convinced me to produce an electronic music album," said Producer Khac Hung.
Quan is currently studying in the third year of the vocal department at VNAM. He likes singing, despite having studied the piano from a young age and decided to enrol in VNAM in 2009.
In 2012, he was sent by the Ministry of Culture, Sports and Tourism to perform at a music festival in the Republic of Korea. He was born in a middle class family in Hanoi: his father is a teacher and his mother works in a State office.
"My mom doesn't want me to become singer. I know she worries about me because no one in my family is an artist," said Quan. However, he has always been supported by his father, who encourages him to follow his passion for music.
The album Departure's song Lua (Fire) will be performed by Quan at the Music Devotion Awards at the HCM City Opera House. He will perform with other artists at the opening ceremony on April 6.