Speculation about future award nominees is swirling ahead of the closing ceremony of the 16th Vietnam Film Festival on December 12. Festivities will begin at 8:30 pm at Ho Chi Minh City's Hoa Binh Theatre to wrap up the five-day event.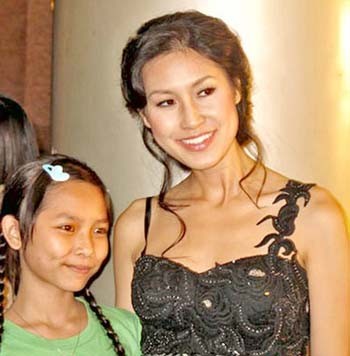 Actress Kathy Uyen (R) could be in contention to win a Best Leading Actress award this year for her role in the movie Chuyen tinh xa xu (Photo: SGGP)
Several films shown during the week created excitement amongst both audiences and festival jury members.
For celluloid feature films, in possible contention for Vietnam's prestigious Gold Lotus Prize is "Dung dot" (Don't Burn), a war movie featuring a female martyr and doctor who wrote welknown Dang Thuy Tram dairies.
The film takes a fresh look at the Vietnam War from several angles while highlighting the struggle of those affected by it.
Outstanding films being considered for Silver Lotus award nominations include "Choi voi" (Solitary), "Rung den" (Black Jungle), "Trai tim be bong" (Little, Tender Heart), "Trang noi day gieng" (The Moon at the Bottom of the Well), and "Huyen thoai bat tu" (Immortal Legend).
The film Choi voi has been praised by critics in particular for the creativeness shown by young director Bui Thac Chuyen.
Rung den which contains many violent scenes, has garnered somewhat less attention.
Audiences lauded Trai Tim be bong's director Nguyen Thanh Van for imbuing the film with raw humanity. However, some viewers felt it was derivative of another feature which won at the Cannes Film Festival in the 1980s.
Two candidates expected to compete for best director prizes are Bui Thac Chuyen of Choi Voi and Nguyen Vinh Son of Trang noi day gieng.
Best leading actress nominations, meanwhile, could go to Lan Ha for her role as Mai in Trang noi day gieng, Kathy Uyen as Tiffiany in Chuyen tinh xa xu, and Nguyen Thi Thu as Huong in Duoc song.
Hong Anh is also expected to be a strong competitor for best leading actress for her role as Hanh in Trang noi day gieng, and also for best supporting actress as the mother in Trai tim be bong.
Dustin Nguyen is anticipated to be nominated for his leading role as the son in Huyen thoai bat tu along with Nguyen Van Bau, the father in Duoc song, and Thach Kim Long in Rung den.
For video feature films, Director Xuan Son, chairman of the judging panel at the film festival, said jury members were in complete agreement about some movies while opinions were split over others.
Films praised for technological achievements were Duong dua (Race-track) and 13 ben nuoc (13 Shores).
Others were admired for showcasing the strong work ethic of the producers and directors including "Con duong sang" (Light Path), and "Cay ban menh" (Fate Tree).
For documentary films, writer Duong Cam Thuy said that two genres, celluloid and video films, were presented for consideration.
She added that selecting winners would be a difficult decision this year.
The celluloid genre has seen prominent films like "Dam may khong dung lai" (The Clouds do not Stop Moving), "Nhung hy sinh tham lang" (Silent Sacrifices), and "Dat lanh" (Cold Soil).
While "Chat xam" (Intelligence), "Dat to que cha" (Fatherland), and "Me, con da ve" (Mom, I Already Came Back) from the video genre could win the awards.
Artist Nguyen Thanh Tai, a member of the judging panel for the animated genre, said: "3D technology has taken Vietnamese films to a new height. However, the story lines are often tired, lacking substance, and repetitive."
The film festival jury said they will honor films that show creativity, skillful execution, solid plot lines, and fresh ideas.
Audiences will also get to vote on their preferred films with celluloids Dung dot, Huyen Thoai Bat Tu, Trang noi day gieng and Trai tim be bong standing out as potential favorites.
Related article:
16th Vietnam film festival opens in HCMC