A theatrical adaptation of Charles Dicken's "A Christmas Carol" will be performed for Vietnamese audiences by the UK's TNT Theater nationwide from November 21 to December 6, it was recently announced.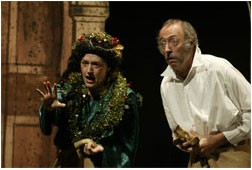 A scene in the play "A Christmas Carol" by TNT Theater.
The play will be staged at Hanoi's Opera House, the Cultural Center in Hue, the Trung Vuong Theater in Da Nang, the Cultural Center in the central coastal city of Quy Nhon and Ho Chi Minh City's Drama Theater.
The play will be in English with Vietnamese subtitles.
"A Christmas Carol" is one of the most famous Christmas stories in English literature.
It tells the story of the miser Ebenezer Scrooge, who through a meeting with three ghosts - Past, Present and Future - is challenged to change his mean ways.
The TNT Theater was founded in 1980 in Britain and has since established itself as one of the most popular international touring theatre companies.
Since 1993, the company has been in collaboration with the American Drama Group Europe.
The artistic director of TNT is Paul Stebbings, whose work has won many awards, including the Munich Biennale, the Edinburgh Festival, the Tehran Festival and from the government of Singapore.