Capital audiences are eager to attend Sunday's concert at the French culture centre L'espace in Ha Noi so they might enjoy Vietnamese traditional instruments playing classical pieces. All of the instruments are made from only bamboo, which is a significant symbol in both Vietnamese culture and daily life.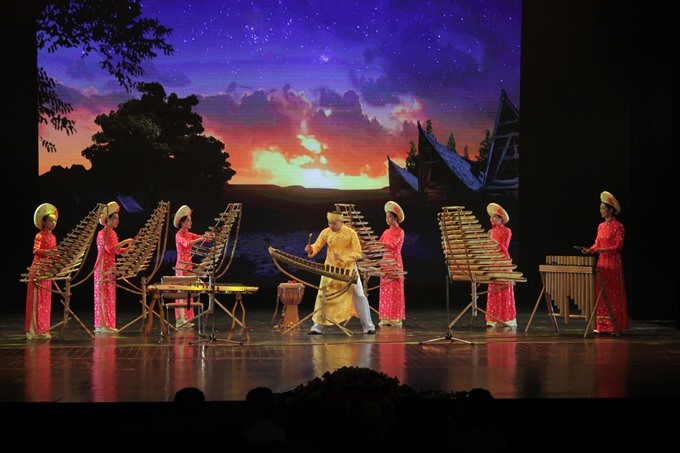 All bamboo: Founded in 2013, the Sức Sống Mới Bamboo Ensemble has become increasingly popular.
The Sức Sống Mới Bamboo Ensemble is very unique in Việt Nam, playing various ethnic instruments, such as t'rưng, k'lông put, đinh pá, bamboo flute and k'ní. The ensemble will perform French and Vietnamese pieces at a concert entitled, Tre Mùa Thu (Bamboo in Autumn).
T'rưng, k'lông put, đinh pá and k'ní are popular musical instruments closely associated with the spiritual life of the Ba Na, Xê Đăng, Gia Rai and Ê Đê groups in the Central Highlands of Việt Nam.
T'rưng is made of very short bamboo tubes, differing in size, with a notch at one end and a beveled edge at the other. The long large tubes give off low-pitched tones, while the short small ones produce high-pitched tones. The tubes are arranged lengthwise horizontally and are attached together by two strings.
The k'ní is a stringed musical instrument, made from sawn bow branches, whilst the k'lông put is a musical instrument of the wind family that looks like a bamboo xylophone.
The đinh pá is made from a number of large bamboo tubes fastened in two rows and standing upright. It is played by striking the top ends of the pipes with a padded stick, although originally the open hand was used.
"All the instruments are made from only bamboo," said the ensemble founder and conductor, Đồng Quang Vinh. "This makes the Sức Sống Mới Bamboo Ensemble distinct from other traditional ensembles."
Bamboo is a central material in many other kinds of traditional instruments, such as the đàn nhị (two-string fiddle), đàn nguyệt (two-string guitar), đàn tỳ bà (four-string guitar), đàn tranh (16-string zither), đàn tam thập lục (36-string zither) and trống cơm (cylindrical drum). However, bamboo alone cannot create these instruments, as they need to combine bamboo with other materials, such as wood, iron, stone and leather.
Established in November 2013, Sức Sống Mới has become popular performing both traditional and classical music at events held by foreign and international organisations and communities in Hà Nội. The ensemble even has had the opportunity to accompany others at concerts held at the Hà Nội Opera House. But the upcoming concert this Sunday will be a milestone marking the development of the ensemble.
"I'm proud of this Sunday's concert because Sức Sống Mới will play a leading role," said Trương Thu Hương, one of the ensemble's first members. She is a graduate from the Việt Nam National Academy of Music's Traditional Instrument Department.
"I never thought about combining traditional instruments and classical pieces. It is very difficult because traditional musicians not only need to profoundly understand western academic music, but also be inspired by this musical genre."
Hương will play three types of t'rưng, expressing high, medium and low tones at the concert.

The greatest difficulty for Sức Sống Mới is not how to play classical pieces with folk instruments. Conductor Vinh works without sleep during the period before the concert, to orchestrate classical pieces for traditional Vietnamese instruments. He is now the only conductor in Việt Nam who is able to do this, and this work takes most of his time as a very busy conductor.
Born in 1984 to a traditional music family, he became involved in the music genre naturally. In his younger years, his father, Meritorious Artist Đồng Văn Minh, taught him to play the bamboo flute and percussion. He later entered the Việt Nam National Academy of Music (VNAM) studying in the Traditional Instrument Department.
His excellent study at VNAM brought him a scholarship at the Việt Nam Ministry of Education and Training to study orchestral conducting at the Shanghai Conservatory of Music. Vinh was also awarded a full scholarship for most distinguished foreign students by the China National Foundation, and then obtained a Master's in orchestral conducting.
He has made a strong impression in showing his power during his nearly ten years in China. He is also a soloist, performing with a variety of traditional music instruments and is frequently invited to conduct and perform on international stages.
He has also conducted numerous Shanghai student orchestras, as well as leading Chinese youth orchestras in national contests to win prizes.
After nearly ten years in China, Vinh decided to return home, where he worked as conductor of the Việt Nam National Opera and Ballet (HBSO) and taught at the VNAM. He currently is guest conductor of VNOB, Việt Nam National Symphony Orchestra and VNAM.
About ten days before the concert, Vinh is still brainstorming how to write the last new score for his ensemble, playing Maurice Ravel's Bolero.
"It is a little bit of a shock for me when the French cultural centre in Hà Nội invites me and the Sức Sống Mới Bamboo Ensemble to play pieces by French composers. It means that I have to orchestrate all the pieces for Vietnamese traditional instruments to play. It takes a lot of my time."
"The ensemble plays entirely with bamboo instruments, so there must be music clips that traditional instruments cannot play. This limitation will be covered by the performance of the International Choir Hanoi - Voices."
He spends a lot of time orchestrating Camille Saint-Saens's Danse Macabre (Dance of Death). The piece, composed for orchestra in 1874, has an eight-minute solo violin performance.
"It is very hard work for me to decide which instrument can replace the violin, to play the solo in the Dance of Death," said Vinh. "Finally I choose t'rưng, with its high tones, because it has a melodious sound, similar to the violin."
The original piece will be cut down to three and a half minutes in the new score. Vinh will play two roles in the Dance of Death, playing the bamboo flute and conducting the ensemble. He also plays the t'rưng, performing Vietnamese Diễm Xưa and bamboo flute in Claude Debussy's Moonlight.
Other pieces to be performed include Gabriel Passereau's Pavane; Maurice Ravel's Boléro, Claude-Michel Schonberg's One Day More, and Vietnamese folksongs Trống Cơm, Bèo Dạt Mây Trôi and Nguyễn Văn Tý's Mẹ Yêu Con.
The song Mẹ Yêu Con was composed in 1956. It is a popular song that has become a symbol of maternal love. The composer used the Northern area's lullabies and emotional lyrics to compose a song that is memorised by several Vietnamese mothers.
Sức Sống Mới has been commissioned to record the song by the Việt Nam Ministry of Culture, Sports and Tourism.
The Bamboo in Autumn concert will be a rare chance for not only music lovers, but also professionals coming to see how Vietnamese bamboo instruments perform classical pieces. The concert will begin at 8pm on Sunday at 24 Tràng Tiền Street.