BB Minh Thuy
BB Minh Thuy will take the leading role in the Michael Gleissner-directedaction film Deep Gold, to be shot in the Philippines in November. The Vietnamesemodel talked about her part in the film, to be produced by BigfootEntertainment.
Thuy will play Sanchez, a professional diver who lives with her older sisterand is preparing for her wedding to Tony, a pilot in the Philippines Air Force.
One day, Tony and a large planeload of gold belonging to the militaryseemingly disappear into the sea. Nobody knows why the plane might have crashedor whether Tony is still alive, not to mention the status of the gold.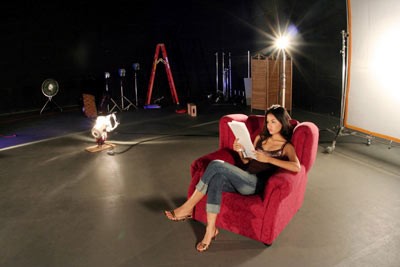 BB Minh Thuy at the filmstudio
The military and the police have their doubts about Tony and think that he'sa plain old-fashioned thief.
Sanchez endures great misery and gets angry with everyone being offensiveabout her fiancé. She determines to look for the missing plane and faces dangerfrom the enemy in the deep blue sea.
"I am very nervous about my first leading role. I have to practice Englishfour hours a day, karate, acting, swimming, diving, holding long deep breathsand expressing sorrow, fright and surprise underwater. I feel so stressed.Anyhow, I will keep doing my best," said a cheerful looking Thuy.

Relatedarticle:
BBMinh Thuy Gets a Shot at Hollywood Fame