The best selling author of "Endless field" (Canh dong bat tan), Nguyen Ngoc Tu, presented to readers her latest work, "Splendid smoke in the sky" (Khoi troi long lay), at the Saturday café in Ho Chi Minh City in last weekend.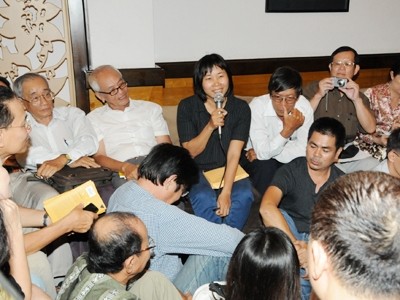 Writer Nguyen Ngoc Tu (black T-shirt) meets readers to discuss about her new book in Ho Chi Minh City on November 12. (Photo: Tien Phong)
The small room of the coffee shop was overcrowded with hundreds of people who have a love in literary works of the Mekong Delta writer.

The book includes 11 medium and short stories which had already been printed in newspapers.
Literary critic and Professor Tran Huu Ta was MC of the talk.

The novel "Endless field" was adapted into a film "Floating lives" by director Nguyen Phan Quang Binh.

The film, produced by the BHD Company, has grossed nearly VND4 billion (US$205,000) in the first four days of screening in October.

Cinemas including Megastar Hung Vuong, Galaxy Nguyen Du and Galaxy Nguyen Trai increased the number of daily shows from two to three. Tickets were sold out hours before the screening and there were any empty seats in the theaters.
Nguyen Ngoc Tu is one of the winners of the Southeast Asia Literature Award 2008.