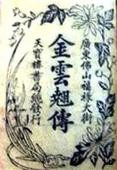 Truyen Kieu, photo: SGGP
in which the whole of  "Truyen Kieu" a masterpiece by Nguyen Du, a great poet, was copied in Sino-Vietnamese calligraphs, including illustrative pictures.
This book took three months to finish costing more than VND 20 million. When it was being displayed in the "calligraphy garden", it was a hot target of collectors. One of them even offered US$ 30,000 for it, but the author utterly refused, saying that he and his coworkers had made this book just to honor a great predecessor, not for business".
The Museum of Viet Nam Revolution offered to buy this book but Mr Nguyet Dinh Dinh Khac Duyet presented it to Nguyen Du Memorial House in Tien Dien commune, Nghi Xuan district, Ha Tinh province.