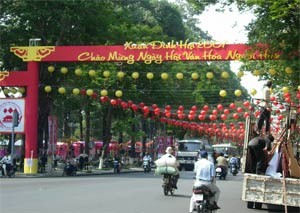 Entrance leading to the festival at April 30 Park (Photo: Hoang Uy)
This year, Chinese Vietnamese communities will welcome the biggest ever Chinese festival in Viet Nam.
The event will be held by the Ministry of Culture and Information (MOCI) at the April 30 Park in Ho Chi Minh City from Wednesday February 28 to Sunday March 4.
The festival promises to be eventful, colorful and memorable, with the scheduled participation of Chinese Vietnamese communities from over 20 provinces, cities nationwide.
The organization board has divided the park into four separate areas. Traditional Folk entertainments including Chinese dance, a fashion show of traditional costumes, lion dance and Chinese operas will be staged in areas A and B.
Calligraphy and traditional Chinese paintings will be showcased in area C, whilst cooking demonstrations will be performed in area D.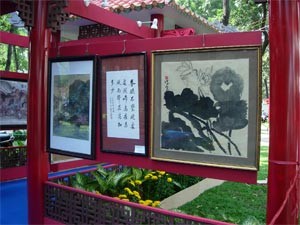 Traditional Chinese artworks and calligraphy (Photo: Hoang Uy)
In addition, the provinces cultural centers will be host to a number of other activities, including a festival of flower garlands and colored lanterns, a meeting with witnesses of the Chinese Vietnamese communities' revolutionary struggle in Ho Chi Minh City and meetings with delegates from other provinces.
For the occasion, the city's government has asked local restaurants to promote Chinese foods.
Preparation for the festival has been on-going since December last year, said an official.
"This year's festival does not only showcase the respect for Chinese Vietnamese communities in Viet Nam, but it also supports their culture. Since Chinese people immigrated to Viet Nam, locals have not forced their cultural beliefs upon them, but instead have paved the way for the Chinese to preserve their own traditions. I believe that this encourages Chinese Vietnamese communities here to establish their place in our society" said Nguyen Thanh Tai, Vice Standing Chairman of the Ho Chi Minh City People's Committee.
From the 17th century to the mid-20th century, there were four major influxes of Chinese immigrants into Viet Nam by land and sea. According to the figures of the General Statistics Office, there were more than 862,371 Chinese in Viet Nam in 1999, including 428,768 in Ho Chi Minh City.