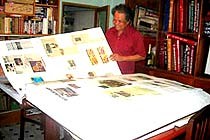 Journalist Tran Thanh Phuong and his artwork
A giant scrapbook of journalist Tran Thanh Phuong, entitled "My Country", is presented to book-readers.
The 970-page scrapbook contains more than ten thousand articles, collected from 1975 to 2005. The whole artwork is about 212 kg in weight. All pieces of news and articles are categorized into four sections.
The first section is "Famous Landscape - Historical Monument – Culture", with nearly 4,500 articles, introducing beautiful places in the country.
"Custom and Festival" is the second section with 861 pieces of article, all writing about many traditional carnivals in Viet Nam.
Nearly 2,400 pieces of information regarding "Cuisine" are also gathered in this book to introduce the arts of cooking and delicious foods to readers.
The remaining section is on "Clothes", with over 2,500 pieces of news and photographs, displaying beautiful clothing of Vietnamese in 30 years.
The scrapbook, considered the biggest in Viet Nam, honored the hard work of two collectors, journalists Tran Thanh Phuong and his assistant Phan Thu Huong. It took them the second half of the year 2005 to finish the artwork.
 
Journalists Tran Thanh Phuong once set a national record with his biggest collection of news articles in Viet Nam.