The crown for the most-anticipated beauty pageant Miss Vietnam Global 2010, which cost approximately VND1 trillion (US$52,000), officially come out to public, not in the pageant's venue – Nha Trang city but in Ho Chi Minh City.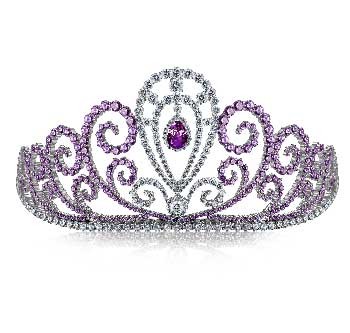 The billion-VND crown will find out its life-time owner on Aug 21 (Photo: ZELA)
The crown is inlaid with 606 diamonds and Amethyst of 2-12 carats.

The design was inspired with the lotus image, which is well-known to the Vietnamese culture. The lotus represents the innocent and passionate elegance of the Vietnamese young women.
In addition, every petal reminds people of the sea waves touching the beach. That is also a very common way to draw the whole description of the Vietnam country, a beautiful and peaceful place sitting next to the blue beach.

The biggest Amethyst which is placed at center of the crown, replicates the image of the third eye - a spiral culture that relates to intelligence.

The maker, ZELA Co – a branch of the Diamond Trading Company, told that their gem craftsmen had to work during 1,000 hours before completing the final product. 
The crown will be sent to  Nha Trang city before the final show of the Miss Vietnam Global 2010 on Aug 21 in Vinepearl Land.