Top male and female models Binh Minh and Vu Thu Phuong won the "Best model" title of the 2008 Vietnam Model Awards held in Ho Chi Minh City Sunday.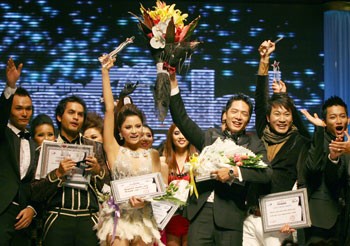 Models Vu Thu Phuong and Binh Minh (C) win the "Best model" awards
They received a cash prize of VND30 million each and also won the "Talented Model" crown.
Ngoc Duy and Quynh Thu took out the "Favorite Model" awards following on online vote, while Van Thinh and Phan Nhu Thao won the "Promising Model" title.
The "Photogenic Model" prizes went to Duc Tien and Hoang Yen. The latter had been the first runner-up at this year's Miss Vietnam Universe pageant and the "Model of the Year" along with Ho Duc Vinh.
The "Best Performing Style" award went to Doan Tuan and Ngoc Quyen and "Best Body" prize to Quang Giap and Khong Lan Phuong.

The "Devotion" award belonged to Duc Tien and Kim Minh.
The biennial Vietnam Model Awards were launched in June by the TAF Public Relations and Communication Company for models who have worked professionally for at least two years.
The first Vietnam Model Award was held in 2006.