High school student Le Thai Son triumphed over three other contestants in the final of "Tieng ca hoc duong" (Students' Singing Voice) singing contest at the Lan Anh Music Club in Ho Chi Minh City on July 5.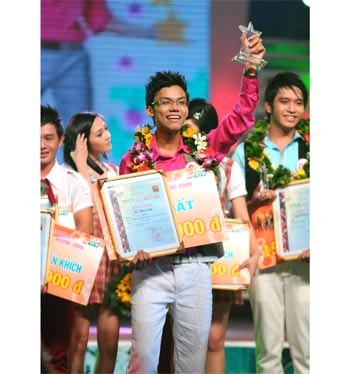 Le Thai Son (C) wins first prize on July 5 (Photo: Courtesy of Cat Tien Sa Media)
Besides a trophy, he also received a cash prize of VND25 million (US$1,380).
Son, 17, is in the final year at Thap Cham High School in Binh Thuan Province.
A regular winner on the music circuit, he took first prize at a local music contest for teenage music bands last year and second prize at another music contest for students earlier this year.
Bach Cong Khanh, a first-year student at the HCMC Open University, won the second prize of VND15 million ($830). 
Tieu Chau Nhu Quynh and Luu Huyen Trinh were second runners-up and got VND10 million ($550) each.
Luu Huyen Trinh was voted the "Most favorite contestant" by the audience and received VND25 million.
The finals night also saw performances by 2008 TV Music Star Tung Lam, 2007 TV Music Star Ha Tram, 2008 Students' Singing Voice winner Dinh Manh Ninh, and singer Hong Anh.
"Tieng ca hoc duong," open to students aged between 13 and 19, is held annually by Ho Chi Minh Television, Cat Tien Sa Media, and Tan Hiep Phat Beverage Group.
Related article:

Four amateur singers survive in final list