Yesterday was Blogger's Day in Viet Nam and the Youth Cultural House of Ho Chi Minh City hosted a big do to celebrate.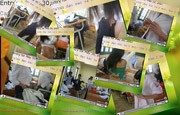 Black blogs with unhealthy information. (Photo: TNO)
Hundreds of young people turned up along with reporters, photographers, singers, musicians, even psychologists to talk about blogging and hear the latest rules and etiquette for keepers of online diaries and commentaries.
The event was organized by the webmasters of TimNhanh! Café at the timnhanh.com website, who used the occasion to announce a VND24 million donation for the victims of the Can Tho Bridge collapse.
Blogging is growing fast in Viet Nam. Many blogs provide commentary or news on specific subjects such as food, politics, and local news.
Problems have surfaced, though, and many a complaint has been sent to the authorities about inappropriate or downright offensive content.

Deputy Minister of Information and Communications Do Quy Doan said his ministry was rushing to regulate blogging more by "supplementing and improving Decision No. 27 on the management and use of internet resources".