The second annual Hanoi Flower Festival kicked off on December 30 at the capital's Ly Thai To Square, as part of activities gearing up for the 1,000th anniversary of Thang Long-Hanoi.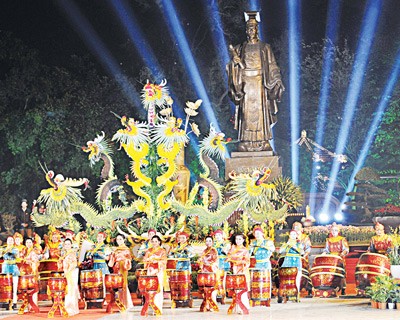 A drum performance at the opening ceremony of the Hanoi Flower Festival on December 30(Photo: SGGP)
Attending the opening ceremony were Vice President Nguyen Thi Doan, Deputy Prime Minister Nguyen Thien Nhan, and leaders from the capital.

At the start of the event, a 4.5-meter-high Khue Van Cac pavilion was unveiled, which was created using 1,000 yellow daisies.

Another 1,000 flowers were used to form a 10m-long train on a traditional dress fashioned by artisans from the capital.

The number 1,000 was also created using thousands of blossoms floating on the surface of Hoan Kiem Lake.

Images of Long Bien Bridge, Khue Van Cac Pavilion, rice and flower villages, the four seasons, and a scene depicting the city's trams from the last century are on display on a bed of colorful flowers.

Another highlight is a 6m-high tower of blossoms surrounded by nine dragons woven from fresh flowers and fruits to represent the Ly Dynasty during its 215-year reign (1010-1225), located near the Ly Thai To statue.

Hundreds of different varieties of flowers from across the country are showcased in the festival including blossoms which are representative of Hanoi such as daisies and gladioli. In addition, more than 30,000 tulips have been brought in from the Netherlands.

During the festival, a flower arranging contest, an Ao Dai fashion show (Vietnam's traditional long dress) and a concert will take place to welcome New Year 2010.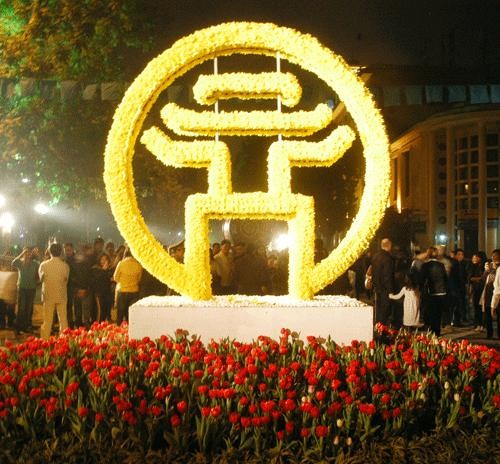 The symbol of Thang Long-Hanoi, located at the crossroads of Dinh Tien Hoang and Hang Bai streets, was created by weaving 1,000 yellow daisies together.