The book "Memoirs of unregistered boats," compiled by Ma Thien Dong, moved many readers deeply when it was first launched at the recent HCMC Book Fair.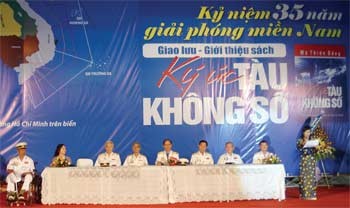 Vietnam War heroes, whose memoirs appear in the recently released book "Memoirs of unlicensed boats," attend a discussion with readers at the 6th HCMC Book Fair mid-March (Photo: SGGP)
The memoirs of boat operators during the American War in Vietnam are being lauded for providing historical insight into the lives of those who supplied weapons to fighters in southern Vietnam during the fight against the US.

Readers also said they felt extremely proud of the boat drivers after reading their accounts.

The book is a series of stories recalled by northern Vietnamese soldiers as they journeyed south in their small fishing boats to secretly deliver artillery to their comrades. Once the boats left home, they would never return.

The boats had license plates for fishing purposes, but they delivered weapons to the south. Hence, the vessels became known as "unregistered boats." In reality, they registered at their units in the north and had license from different countries when they arrived in the southern water area during wartime.
Since the original stories were so impressive and touching, compiler Dong decided to retain all the memoirs without adding to or changing any of them. His goal was simply to ensure that all details listed in the book were accurate.

Dong also coordinated with book fair organizers to host a conference with readers, young people, and those whose lives and achievements had been carefully reported in the book.

Some of the heroes detailed in the memoirs included Tran Phong who headed Brigade No.125, his colleague Nguyen Van Duc who acted as Vice General Advisor of the brigade, and Nguyen Xuan Thom, former commander of Battalion No.7.

The heroes came to the forum armed with unforgettable stories, picking up where the book left off. The revered veterans also reminded young people attending the meeting of how their forefathers had defeated a large, strong country like the US with less artillery.

Through their stories, rich in detail and emotion, readers said they were able to gain a greater appreciation for the sacrifices made by the soldiers. The courageousness, pride and spirit of the veterans were conveyed effectively to young reader at the conference, who sat quietly, hanging on every word spoken by the national heroes.

The conference also served to bridge old and new generations from both war and peace times, with the attendance of young naval soldiers.

The young soldiers said the memoirs made a deep impression on them and that they felt a renewed sense of responsibility towards the country and past generations.