American singer Bob Dylan, famous for his anti-war songs during the Vietnam War, will perform in the country for the first time on April 10 at the sports ground of RMIT Vietnam University in Ho Chi Minh City, during his Asia and Australia tour. Sai Gon Giai Phong talks to the RMIT Vietnam President, Professor Merilyn Liddell, about why her Australian university is getting involved in the concert. Excerpts: 
Why is RMIT Vietnam hosting the show?

The Bob Dylan concert is not an RMIT event. However, it's true that many of our students and staff often feel frustrated that major international performers have conducted Asian tours taking in Singapore, Bangkok, Kuala Lumpur and other locations, crisscrossing the region but leaving Vietnam off their tour itineraries. We think Ho Chi Minh City and Hanoi should be seen as major regional centers of at least the same importance as these other locations.
When the organisers of the Bob Dylan concert made it known to us that legendary Bob Dylan was willing to come to Vietnam to perform – on condition that a suitable venue could be found – we realized we had the chance to make a contribution to putting Vietnam more firmly onto future tour agendas of major international performers. We hope that other major international acts would take notice of a successful Bob Dylan event in Vietnam, and start to consider their own options more seriously. This might help lead sooner to the development of more and better venues. Many of our students and staff would be delighted if this was to happen.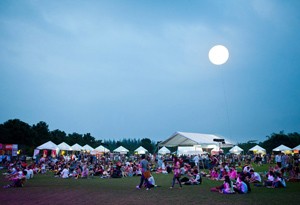 RMIT Vietnam file photo of the 2010 annual charity fundraiser Loreto Fest, pictured at the university's sports ground, the location for the Bob Dylan concert

Is that the only reason for your university getting involved?

No, there are other reasons too. One of the features of the planned Bob Dylan event that really appealed to us was that we were told a significant part of the concert would be devoted to a tribute to great Vietnamese poet and musician Trinh Cong Son. Most Vietnamese know and respect Son but few foreigners have that awareness.
By including a tribute component in the concert – as part of this year's 10th anniversary commemoration of the death of Trinh Cong Son – we felt it would be a very good way to introduce more foreigners and more of the younger generation of Vietnamese to one of Vietnam's great modern literary and musical figures.
The American folk performer Joan Baez – one of Bob Dylan's contemporaries – has described Trinh Cong Son as "Bob Dylan of Vietnam". So the plan to include a tribute to Trinh Cong Son seemed to us to be a great way to introduce a worthwhile educational and cultural exchange component into this music event.

Are there any other benefits for RMIT?

We hope also to take some advantage of the local and international publicity that will surround the Bob Dylan concert to help raise awareness of the fact that Vietnam has a world-class international university that is well established here, in its 10th year of operation, and producing great graduates.

Some people may notice RMIT Vietnam for the first time just because of Bob Dylan. We hope they might then come to notice the quality of the educational offerings we provide, and the opportunities for cooperation and partnerships of many kinds - including our desire to see more research being conducted here in Vietnam.

Is there any down-side?

Yes. Some regular users of our sports field will be inconvenienced for a period of around two weeks as temporary arrangements are made to accommodate a concert that will bring more than 8,000 people onto our grounds – more than we have ever brought on campus at one time before. There are important logistical arrangements which need to be made, including health and safety concerns which must be addressed, and of course this takes up university resources. But we have established a comprehensive set of arrangements with the concert organisers to ensure that these risks are managed very carefully and that inconvenience to our more regular activities is kept to a minimum.

What do you know about Bob Dylan?

Bob Dylan rose to fame in the US and around the world as one of the leaders of the 1960s anti-war, anti-establishment pop music revolution. He helped to change America's attitude to war in general and Vietnam in particular. His name is often listed amongst the pantheon of music industry all-time icons in the same league as The Beatles, Elvis Presley, and The Rolling Stones. To the present day, top international acts such as U2 and Guns N' Roses still perform cover versions and new mixes of Bob Dylan songs.