The traditional Bong Sen (Lotus) Song and Dance Theatre will celebrate its 50th jubilee anniversary with a special concert at the Ho Chi Minh City Opera House on September 11.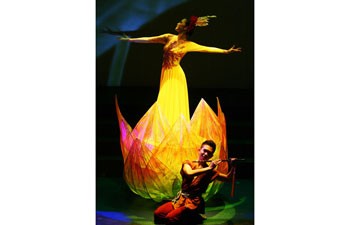 Dancer Linh Nga and her younger brother Long Phi ('Dan nhi' or fiddle player) in the performance (Photo: Tuoitre)
Many generations of artists who have made outstanding contributions to the theatre will join the event, such as People's Artist Phuong Bao, Meritorious Artists To Lan Phuong, Do Loc, Tuan Phong, Quang Ly, Tran Chinh, Ai Xuan, Tuyet Mai, Anh Tuyet, singers Cam Van, Cao Minh, Nhat Sinh and dancers Linh Nga, Bach Van, Trung Hieu, Khanh Toan and Thuy Van.
The 150-minute concert titled "Lotus in the city" will include a documentary of the theatre, introduction of artists, singing and dance performances such as "Lotus in the city", "Vietnamese drum", "The boat and the sea", "Unforgettable song" and "The lotus bloom season."
Marking this special occasion, a special dance performance entitled "Lotus" featuring Linh Nga, one of the country's most famous dancers, will take place on September 17 in Ho Chi Minh City.
The 90-minute performance will present to audiences a spectacular dance and melody show of images from Vietnamese villages and of pure and beautiful lotus flowers showing the spirit of the Vietnamese people.

More than 60 dancers and artists from the Bong Sen traditional song and dance theatre together with meritorious artists Vuong Linh and Dang Hung, director Tat My Loan, fashion designer Minh Hanh and flute player Nhat Minh will join the show.

Linh Nga is the daughter of the famous dance couple Đang Hung and Vuong Linh. She has been studying dance in China since she was 12.

The special dance performance entitled "Lotus" featuring Linh Nga, has already been held in Hanoi and Hai Phong in August.