Vietnamese-Belgian singer Pham Quynh Anh set foot in her homeland for the first time early this morning and was warmly greeted.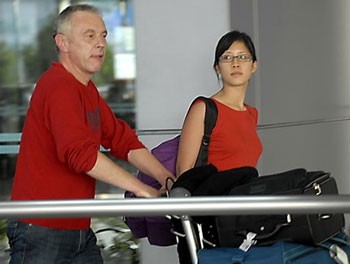 Singer Quynh Anh (R) and her manager Bernard Carboner arrive at Tan Son Nhat International Airport. (Photo:TTO)
The young singer, who was accompanied by manager Bernard Carboner, was so simple in casual clothes that even many of the reporters gathered at the Ho Chi Minh City airport could recognize her.
Ms. Anh will take part in a press conference in the city on November 13 to mark the 10th anniversary of the founding of the European Chamber of Commerce in Vietnam (EuroCham) and perform at the Eurocham Gala Dinner at Sofitel Plaza Saigon the next day.
She will share the stage with famous local singers Hong Nhung and Duc Tuan, while the Cool Swing Express trio will render its jazz own compositions.
Michelin-rated European chefs Ulrich Helmann, Wout Bru, and Laurent Marlin will fly in from Europe for the dinner.
After five days in Ho Chi Minh City, Ms. Anh will make a three-day trip to Ha Noi and Ha Long Bay before leaving for France on November 18.

Related article:
Vietnamese-Belgian Singer Returns Home for First Time