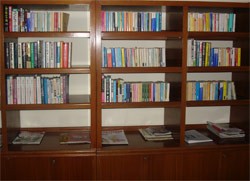 The first Family Book Shelf competition will attract the attention of book-collectors. (Photo:VH)
"Books - Knowledge – Integration - Development" is the theme of the 2006 Book Festival in Ho Chi Minh City.
Many workshops will be hosted to introduce new publications books to readers. Also, a workshop themed "Cultural reading and students" with musical performance will be organized for book-lovers in these festive days.
Two competitions including the "Golden Books" and the first "Family Book Shelf" will draw the participation of many book-collectors to introduce their precious works.
More than 10 million books are expected to be on display, affirmed the organizing board in a press conference on February 23.
As many as 91 publishing houses, book stores, and stationery shops have registered to take part in the 4th Book Festival in Ho Chi Minh City. A significant point is that Book Festival 2006 attracts more foreign publishers than domestic publishing houses.
The festival attracts 25 foreign publishing firms from Britain, the U.S., Russia, France, Indonesia, Singapore, Thailand and China, which will have their books on display in 36 booths.
Around 40 stands were booked by 24 Vietnamese publishers in the event.
The number of private book stores increases from 22 to 26 while book distribution companies rise from 7 to 11, compared to that of the 2004 festival.
The 2006 Book Festival, scheduled from March 20 to 26, 2006, will take place in the City Hall located in 111 Ba Huyen Thanh Quan Street, District 3.