A book week is being organised in three book stores in downtown HCM City on October 1-9 by HCM City's General Publishing House.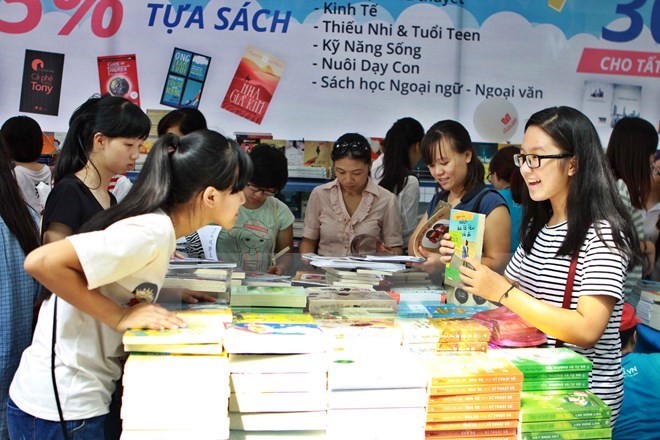 Young readers at a book fair (Photo:VNA)
General Book Store 1, 62 Nguyen Thi Minh Khai, District 1; General Book Store 2, 86-88 Nguyen Tat Thanh, District 4; and Book Stall of HCM City General Publishing House on Nguyen Van Binh Book Street, District 1; will offer discounts of up to 49 percent between 8am and 9pm.
Latest book titles by the publishing house will hit the stores, including Rong Choi Mien Chu Nghia (Wandering among Words), 3 episodes by An Chi and a two-volume book on Phan Chau Trinh by two well-known authors written in the early 20th century.
The Saturday Talk at 8.30am on October 8 on Nguyen Van Binh Book Street will feature a meeting with researcher An Chi.
A book festival with the theme "Hanoi and capitals of ASEAN countries" will be organised at the Thang Long Heritage Preservation Centre, 12 Nguyen Tri Phuong Street in H anoi, between October 6 and 11.
Beside books and publications introducing traditional cultures, and cooperation activities between H ano i and ASEAN members, there will be on display many books for children and books of various subjects, such as literature, economics and science by domestic and international authors.-VNA