Viet Nam has especially published an English language version of the best selling book "Buddhist Temples" to welcome the UN Day of Vesak, which is slated to begin in Ha Noi on May 14.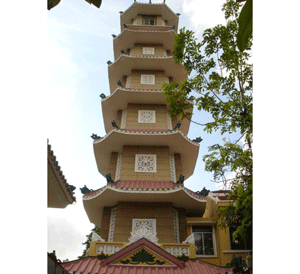 Xa Loi pagoda in Ho Chi Minh City(Photo: U.Phuong)
The book features 52 popular pagodas from around the nation, in words and pictures, conveying a Vietnamese Party and Government message of freedom of religion among all ethnic groups.
Its chief author, Professor Ha Van Tan, who was the Rector of the National Archaeological Institute and Deputy Head of the Viet Nam Buddhist Research Institute, is considered the most prestigious historian in Viet Nam .
A Vietnamese-English bilingual version of "Buddhist Temples", featuring 42 pagodas, was first published in 1993.
The book has since been updated and the final English editing undertaken by Professor Keith Weller Taylor from the Carnell University of the United States . It has received a positive response from readers with many letters requesting republication.