The Venezuelan Embassy in Vietnam published a book titled "Hugo Chavez Frias: Political Thoughts on Socialism in the 21 st Century" in Hanoi on March 5.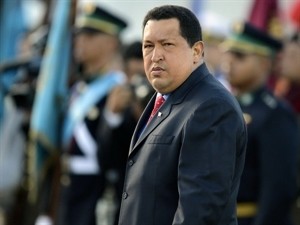 Late President of Venezuela Hugo Chavez Frias (Source: AFP/VNA)
The event was the latest activity in a global Venezuelan movement named "Places where Chavez passed through" on the occasion of the 1 st death anniversary of the Venezuelan President.
At the launch, Deputy Director of the Ho Chi Minh National Academy of Politics and Public Administration Nguyen Giap Tuat said the book is a significant work of research that demonstrates the friendship and solidarity between the Vietnamese and Venezuelan people.
This is a valuable book for those who are interested in Venezuela and President Chavez, he said, adding that it will serve as a useful resource for the academy's lecturers and students.
Venezuelan Ambassador Jorge Rondon Uzcategui stated that the book represents the thoughts, life and career of the late president, as well as the developing friendship between the two countries.
2014 is an important year for the two nations as they celebrate the 25 th anniversary of their diplomatic ties and 50 years since Venezuelan guerilla arrested a US officer to exchange for the life of Vietnamese hero Nguyen Van Troi.
The book, published in both Vietnamese and Spanish, helps readers understand more about Chavez's thought on socialism in the 21 st century, his struggle against oppression and injustice and well as his aspiration for a peaceful South America free from poverty and misery.