A book on traditional costumes of the Vietnamese ethnic groups has just been released jointly by the Ho Chi Minh City Fine Arts Association, Ho Chi Minh City Fine Arts University and Information Publishing House.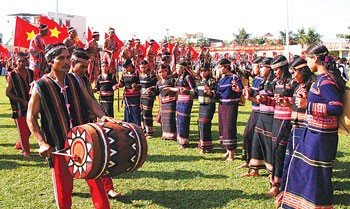 Ethnic people in the central highland province of Gia Lai in their colorful traditional costumes. (Photo: Sggp)
On the occasion a special exhibition featuring traditional Vietnamese costumes is being held at the Ho Chi Minh City Fine Arts University.
The book aims to present readers the beauty of traditional costumes of the Vietnamese ethnic groups and help highlight and preserve their national culture and fine art heritage.
Dr. Cung Duong Hang, a teacher at the Ho Chi Minh City Fine Arts University, explained that designs, typical symbols, colors, patterns, materials, jewelry items of various ethnic minority groups show their varied indigenous life and habitat in this beautiful book titled "Fine Art in women's traditional Vietnamese costume".
 
In related news, a special presentation show of traditional costumes of the 54 ethnic groups of Vietnam was held in Hanoi in November.
The event attracted around 250 Vietnamese male and female participants between 18 and 40 years of age, of minimum height 1.65m for male and 1.55m for female candidates from cities and provinces across the country.
Participants represented their ethnic groups wearing traditional costumes which were accessorized with traditional necklaces, bracelets and earrings. The presentation also displayed their daily activities and special ceremonies like weddings and folk festivals. The participants demonstrated various performing skills and displayed all their inherent deep rooted culture.
The presentation was an opportunity to take stock of traditional costumes and ethnic groups of the country. According to experts, at least five ethnic groups have lost their native traditional costumes including the Xinh Mon, Pu Peo, Sila, Cong and Ruc ethnic minorities.

Experts from the Vietnam Ethnology Museum and the  Institute of Ethnology joined the event presentation to assess the costumes.