Many publishers and bookstores have launched huge discount sales on books to attract readers during the summer months in Ho Chi Minh City.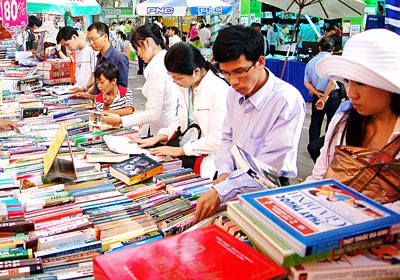 Book Festivals will attract many readers in HCMC in summer. (Photo: SGGP)
"Special Price on Fahasa Book Day" will be the biggest event to take place at the City Exhibition House on 92 Le Thanh Ton Street in District 1 from July 5-15. The book event will bring to readers more than 60,000 titles and millions of copies at discounts of 10-50 percent. The event is expected to lure a large number of book lovers in the city and from neighboring provinces.
Fahasa (HCMC Book Distribution Company) will also offer gifts and discounts on books at Book Festivals organized in remote districts of the city. Accordingly, the company has also offered 30,000 notebooks and 200 schoolbags worth VND400 million.
On the other hand, Fahasa vans will bring books to sell in other provinces including Long An and Quang Ngai.