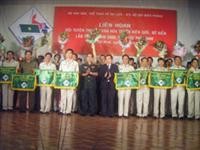 The award ceremony of the festival takes place on August 25.
Soldier-artists won 25 gold and 35 silver medals at an annual cultural festival for border troops held in Ho Chi Minh City from August 22 to 25.
More than 400 troops from around the country enthralled audiences with their dance, music, and theater performances.
The sixth annual event was organized with support of the Ministry of Culture, Sport and Tourism.