A well-known ethnomusicologist, Professor Tran Van Khe, has given lectures on "Traditional Music – Non-Exotic Development" to more than 100 young people at his house.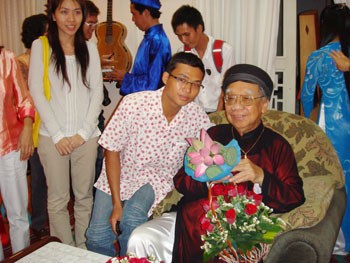 Prof. Tran Van Khe receives flowers from young audiences in a talk on August 1.
The talk, part of a program, including seminars and performances of Vietnamese traditional music, has taken place for the last three years at the professor's house in Binh Thanh District, HCM City.
The program aims to give young people knowledge of folk music.
"Many kinds of Vietnamese music have a lasting artistic value and been handed down from generation to generation" said the professor.
He said that the quintessence of traditional music, as preserved by Vietnamese ancestors, will be everlasting.
"If you pay close attention to Vietnamese music, you will discover a lot of interesting things in this treasure. I think young people may not know about folk music because they have not loved it yet," he added.
"Nowadays, young people love electric drums because they do not understand about Vietnamese traditional drums" the professor said.
"I love Vietnamese folk music but I just enjoyed it by watching TV. It is the first time that I have attended a special show at Prof. Khe's house. I think I will learn more about the country's music, which will be helpful in my business in future," said Nguyen Quoc Thang, student of Tourism Department of HCMC Hung Vuong University.
"I used to study piano but I don't like it. Now I am studying dan tranh (16-chord zither), a Vietnamese traditional instrument, after hearing it by chance" said Le Xuan Truc, a newly graduated student of the Department of Business Management of HCMC National University.
"I introduced Vietnamese traditional music to foreign people around the world when I was in France. Vietnam, my homeland, is a place where I inherit and preserve the heritage of folk music art," said Prof. Khe.
Prof. Khe has just signed a contract with Phuong Nam Cultural Corporation to reprint his four-volume memoirs into one copy. He also gave the right to Phuong Nam to publish all his works.
Professor Tran Van Khe is one of the greatest masters of traditional Vietnamese music. He had previously been offered posts as director of research at CNRS, Professor at the University of the Sorbonne in Paris, Honorary Member of the International Music Council (UNESCO), and Corresponding Member of the European Academy of Sciences, Letters and Arts.
Having lived in Paris for about 50 years, and traveled worldwide, lecturing and performing, he has played a key role in introducing Asian music to the Western world. During the past 50 years, he has taught several thousands of students all over the world.