Vietnamese-Canadian bubble artist Fan Yang and his family will be touring China, Singapore and Vietnam this summer.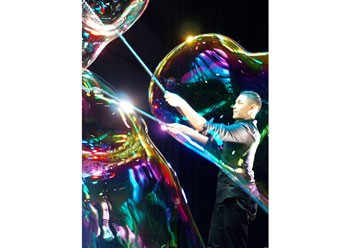 Bubble artist Fan Yang
Yang will perform at the Friendship Cultural Palace in Hanoi on May 27 and June 2, and in Hai Phong City and Quang Ninh Province from June 3-10.
Fan Yang is a famed bubble master who holds 16 bubble-related world records.

He is a Canadian citizen but was born in Vietnam in 1962. His father is Hungarian and his mother is Vietnamese, who still lives in the northern city of Hai Phong. He left Vietnam for the Socialist Federal Republic of Yugoslavia with his father in 1964. He was introduced to the art of bubble blowing at six years of age, before he moved to Canada.

He has held many performances around the world since 1982.
Internationally known bubble artist Fan Yang donated VND500million (US$25,000) to Sai Gon Giai Phong charity programme "Nghia Tinh Truong Son" (Sentimental Attachment for Truong Son Road) on May 3 from proceeds of his performance at the Hoa Binh Theatre in Ho Chi Minh City on April 30, 2011.

He showed a keen interest in the newspaper's charity programme which helps war heroes, war invalids, martyrs' families, youth volunteers and the poor ethnic people that live along the provinces of Truong Son road. During the resistance war against US invaders, the provinces along Truong Son road, often called the Ho Chi Minh trail,   suffered heavy human losses.