Anyone who thinks the southern folk opera called cai luong is dying out should see the box office receipts for Bach Tuyet's concert at the Ho Chi Minh City Opera House on October 4. They're piling up, and in spite of the hefty prices. While the cheapest tickets are a reasonable VND50,000, the most expensive are a record-setting VND200,000 – the most ever for a live cai luong show.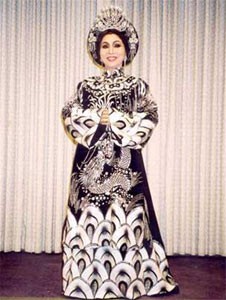 Artist Bach Tuyet
Bach Tuyet, one of the biggest names in cai luong, will share the stage with Professor Tran Van Khe and other famous exponents of the art like Minh Phung, Thanh Tuan, Bao Quoc, Ut Bach Lan and Thanh Kim Hue.

Directed by the star of the show, they will perform extracts from Tran Nhan Tong - thien ca Yen Tu (Tran Nhan Tong - Buddhist song) with Minh Phung as King Tran Nhan Tong, pop singer Ngoc Son as General Tran Binh Trong and Bach Tuyet as Princess An Tu; Kieu tai hoi Kim Trong (Kieu reunites Kim Trong), Doi Co Luu (Luu's life), Thai hau Duong Van Nga canh Son Lang (Queen Duong Van Nga in Son Lang) and other standards.
Dr. Bach Tuyet, who studied stage direction in Bulgaria in 1988, has played a leading role in many of the more than 400 cai luong dramas known to musicologists.

Away from the stage she likes drawing, painting and composing poems, music and dramas.
Ever the true artist, she frequently ventures out to far-flung regions to perform for free.